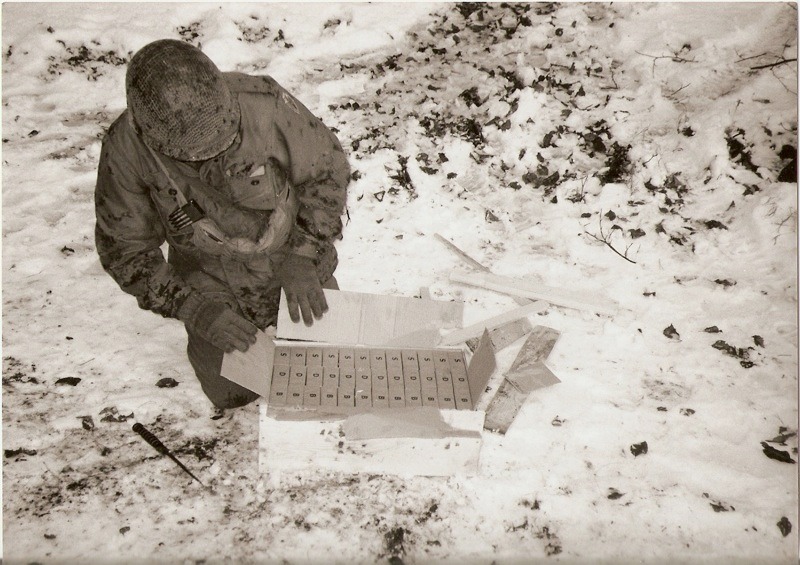 Here's me opening a case of K Rations during some winter re-enactment.
As it just so happens, I'm a printer by profession. Seeing all the fantasy crap that is being offered on the internet as "museum quality reproduction" ration, I decided to produce my own reproduction K Rations. Printed on a real press and die-cut ready to fold and paste. And affordable too.
No more home printed nonsense with dotted lines where to fold, wrong colors, flimsy paperboard, or absurd dimensions. (Oh, the horror!)
My reproductions are based on original K Rations from my own collection or collections from friends.
My goal is to produce sets that include not only the inner and outer boxes, but also the correct wrappings for the contents.
I'm not really a fan of Farcebook, but I added a Facebook page so I can give a heads up from time to time. Don't expect daily posts, though.
K Ration kits (Breakfast, Dinner and Supper unit)
Click the picture/link below to go to the reproduction kit page for the different kits and more information.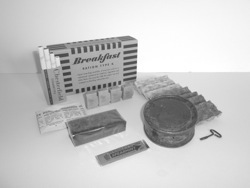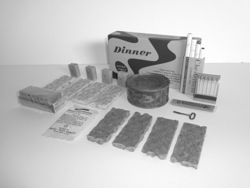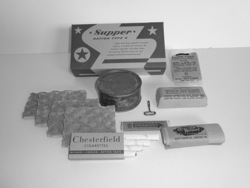 None of the kits contain any foodstuffs, cigarettes or matches.
If you buy 12 kits of one type you only pay for ten kits!
Inner and Outer Carton sets (12 sets)
The inner and outer cartons are also available separately, but are sold per dozen. (So you can fill that crate for display.)
Six different sets are available.
Click picture/link below for information:
Partial Dinner Unit kits (5 sets)
Although the 10-in-1 Ration was a group ration, lunch came in individual packages based on the K Ration called Partial Dinner Units (hereafter PDU). Please see the Partial Dinner Unit chapter.
The 10-in-1 Ration came in five different menus, #1, #2, #3, #4 and #5, so there are five different PDU as well. These PDU are according the specifications issued in March 1944.
The 10-in-1 Rations was packed on a double 5 ration basis, so that a group as small as five men could use it for two days. The PDU kits consists of five sets each.
Click the picture/link below to go to the reproduction kits.
Partial Dinner Unit #1, #2, #3, #4 and #5 (five sets each) $12
None of the kits contain any foodstuffs.
The advantage of these kits over the K Ration kits are that the can is issued separately and do not have to fit the box. Furthermore there are no cigarettes in the PDU and they do not have to be waterproofed with wax.
Components
These sets will only contain the inner and outer boxes and various packagings and wrappings for the contents. No foodstuff or cigarettes and matches will be included!
Each set will have the packagings and wrappings for its appropriate contents, so all sets will slightly differ from each other, just like the originals. Not claiming that it will be 100% correct, but it will sure beat the fantasy items offered on the internet elsewhere.
Lets have a look at some packagings and wrappings I have finished so far: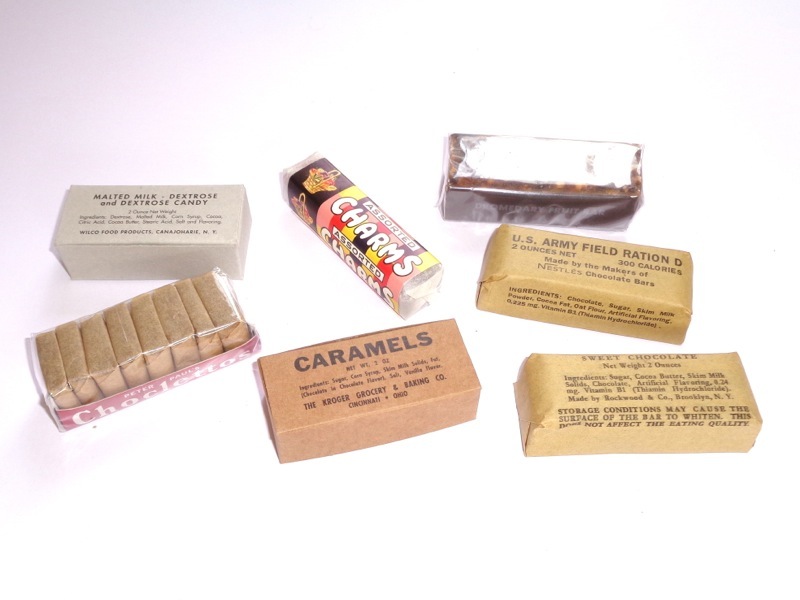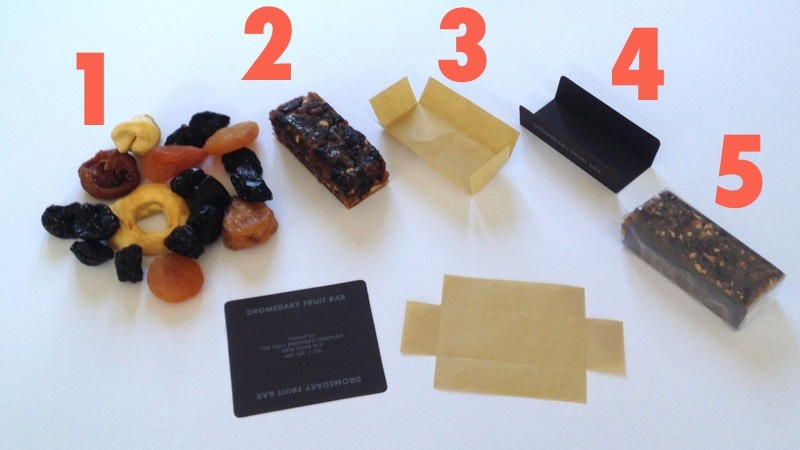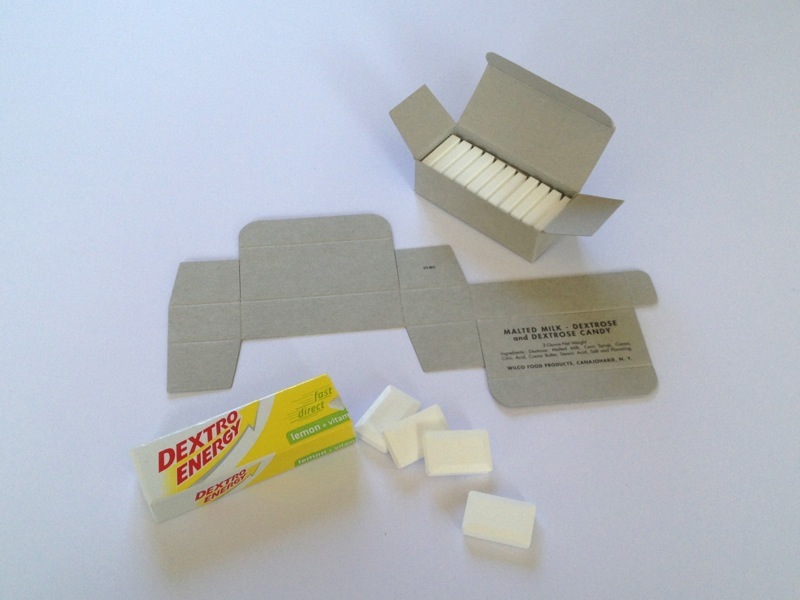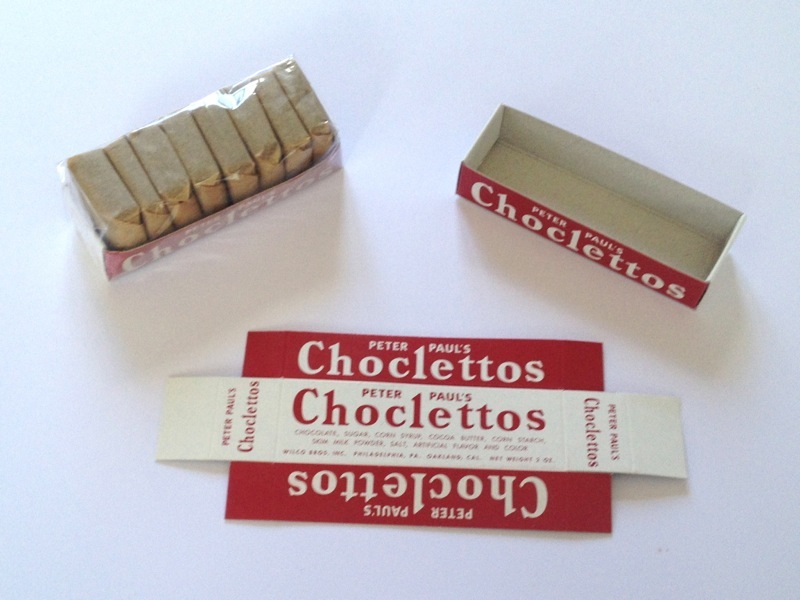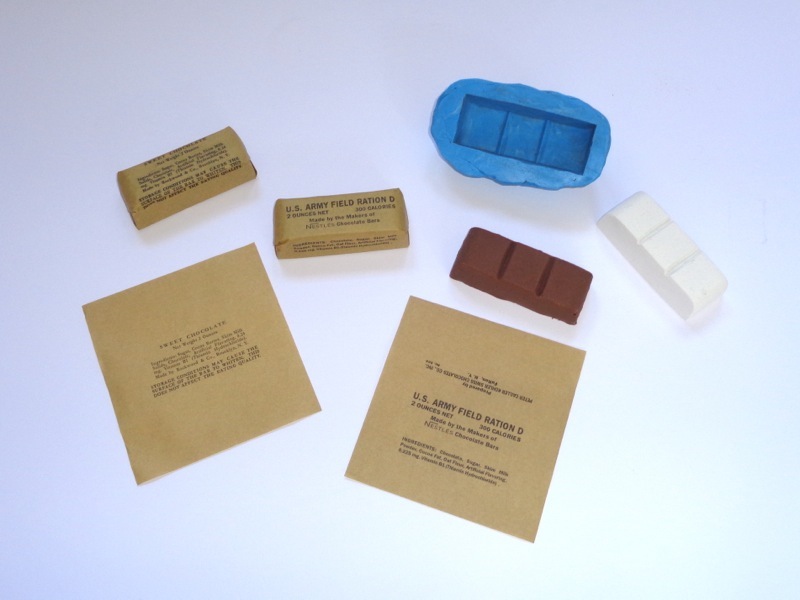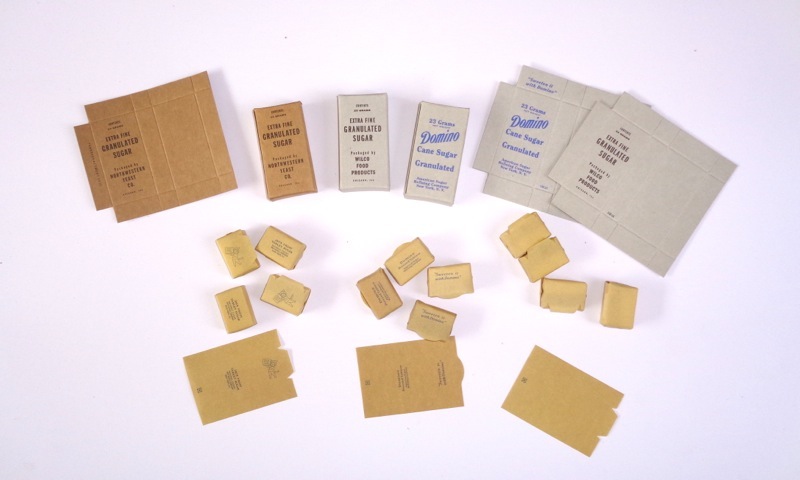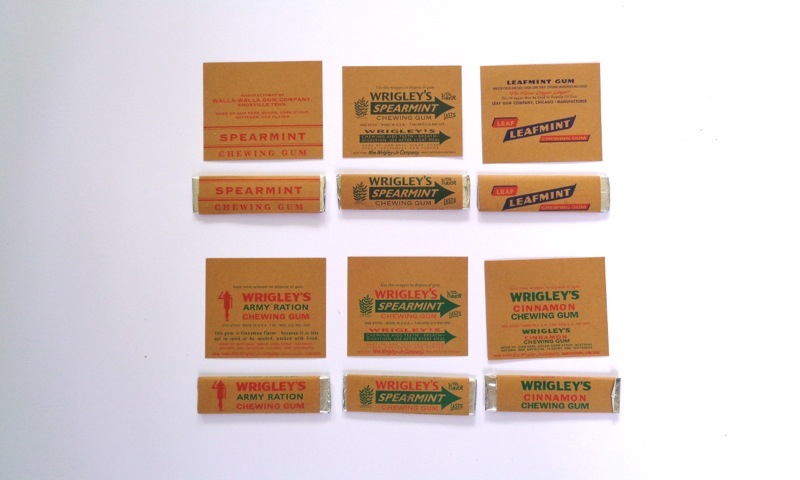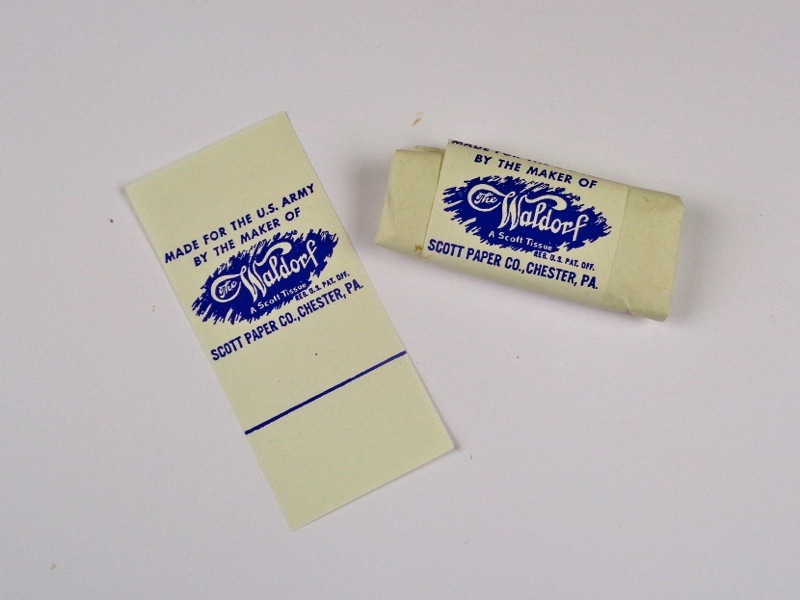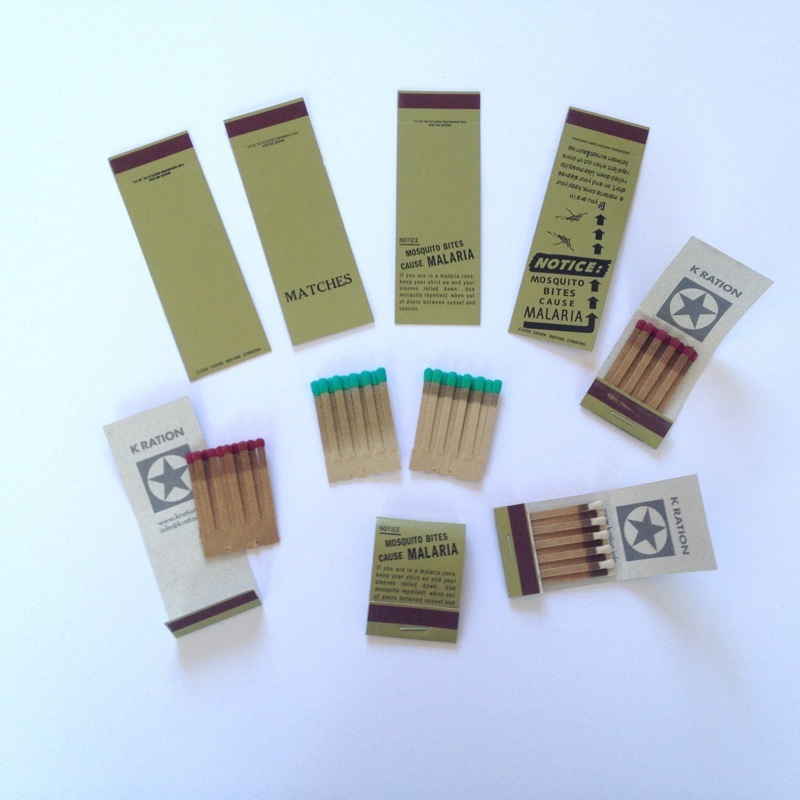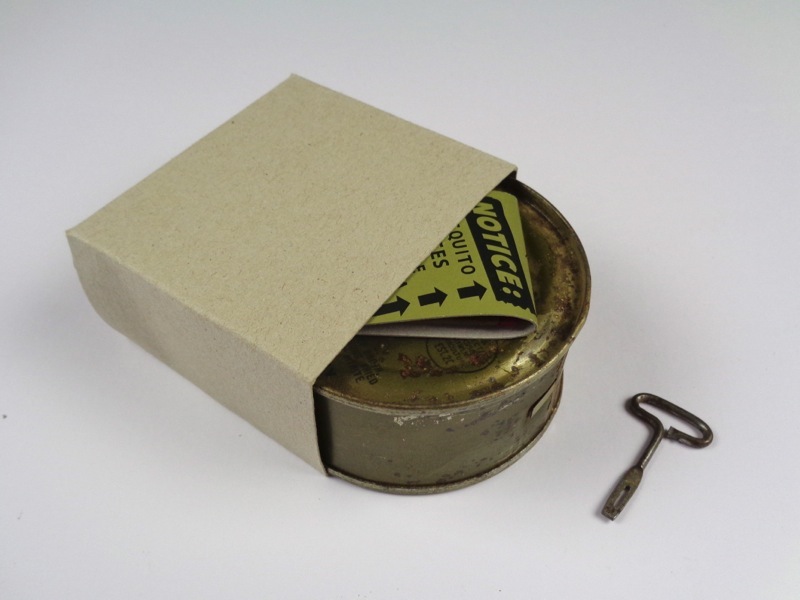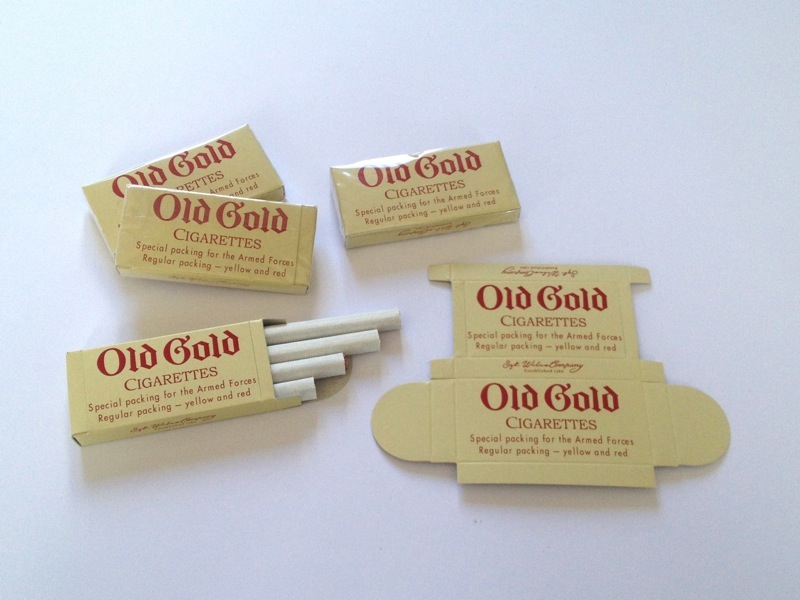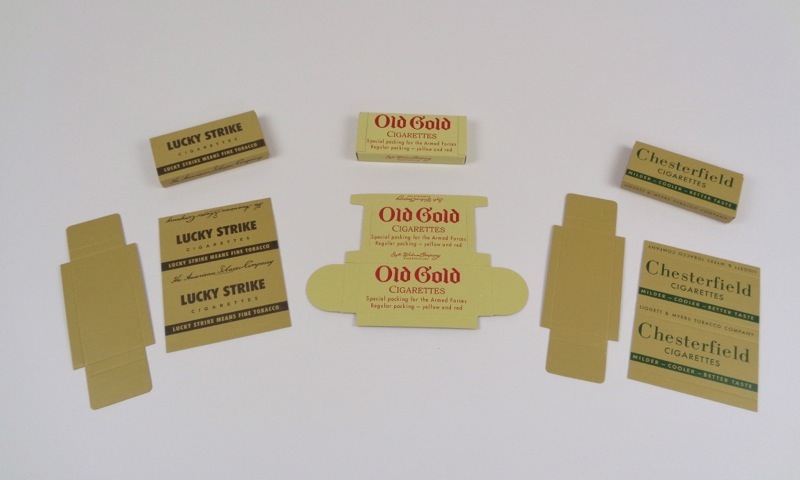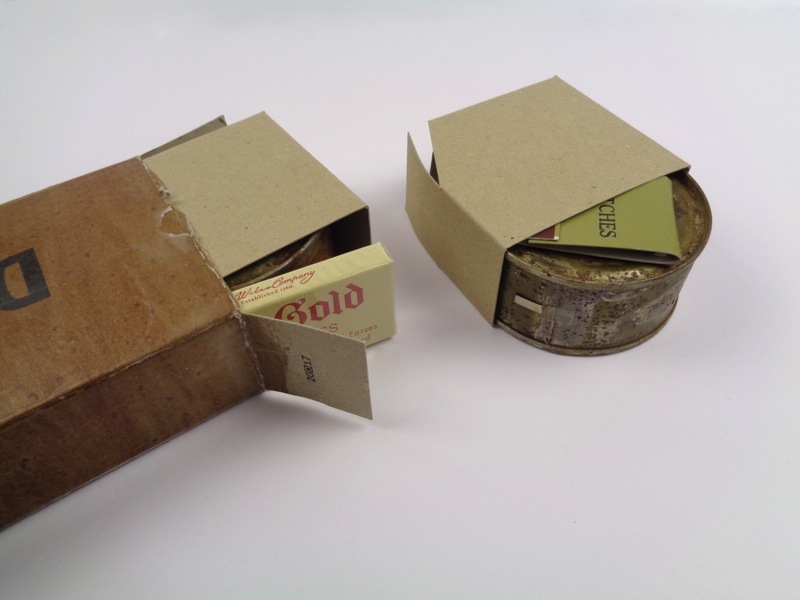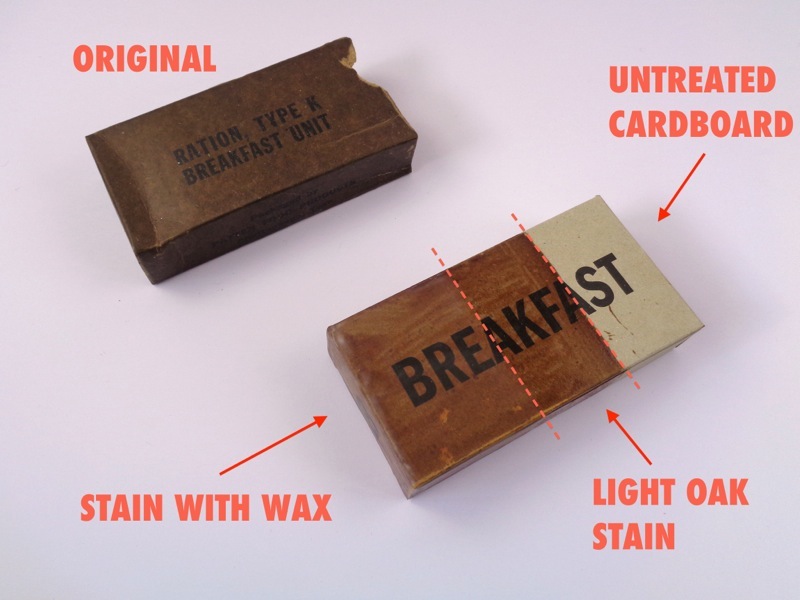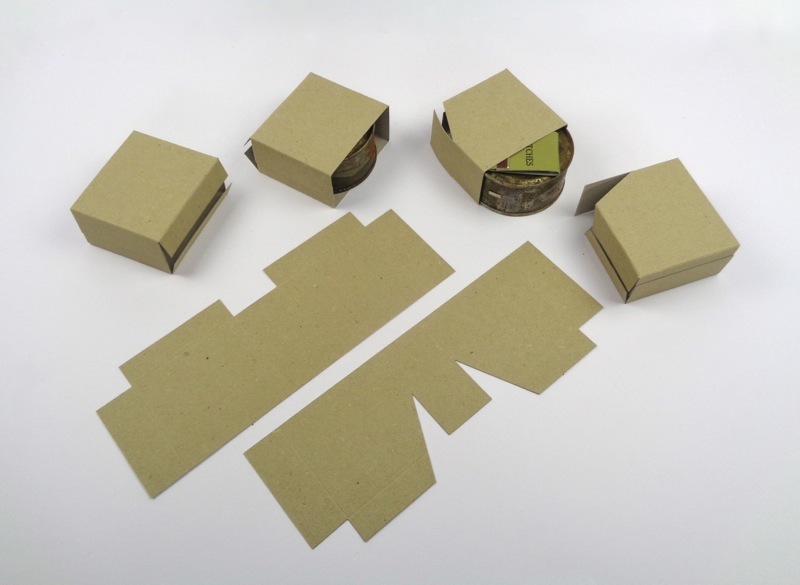 The sachets for the beverage powders will be adhesive (glossy) paper printed with the appropriate color and design that you will have to adhere onto a small mylar pouch (also included).
The early Lemonade and Bouillon envelopes are transparant sachets with a transparant sticker printed with instructions.
Below is shown what I have finished so far: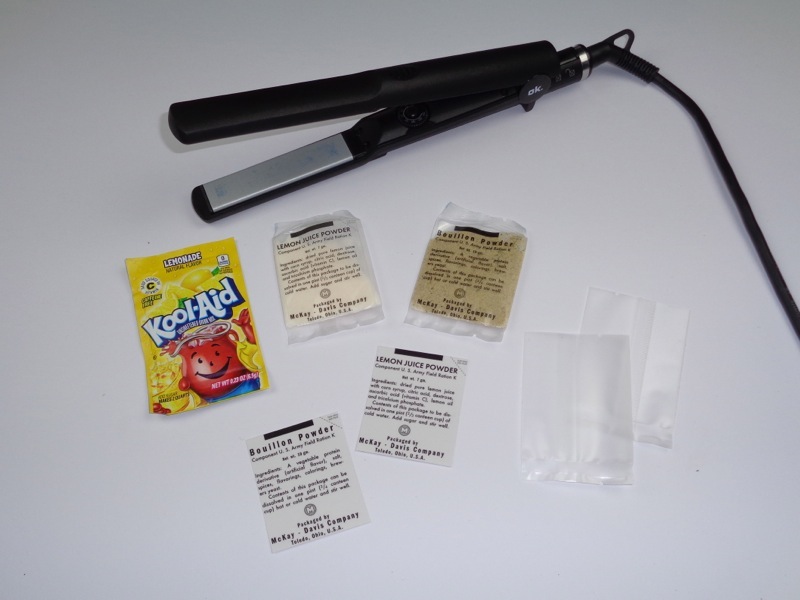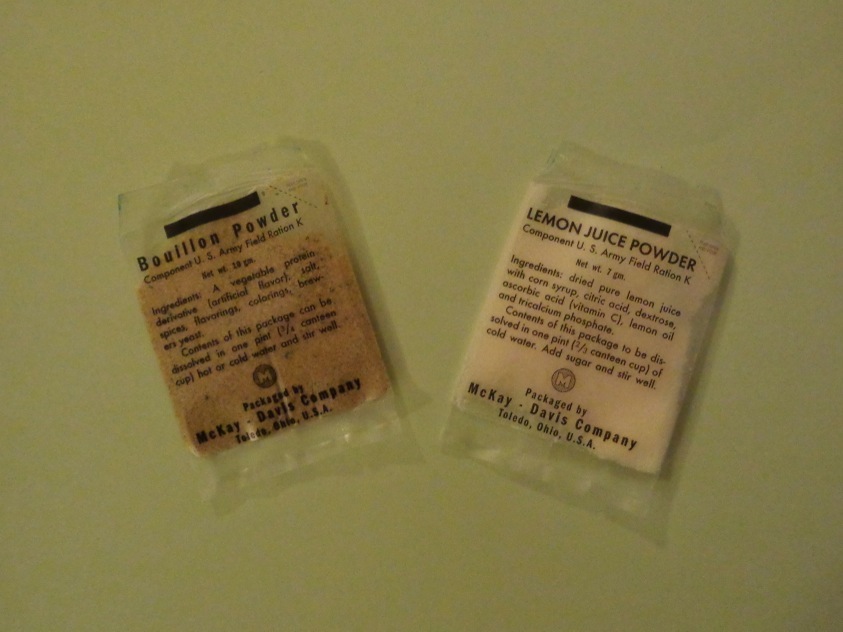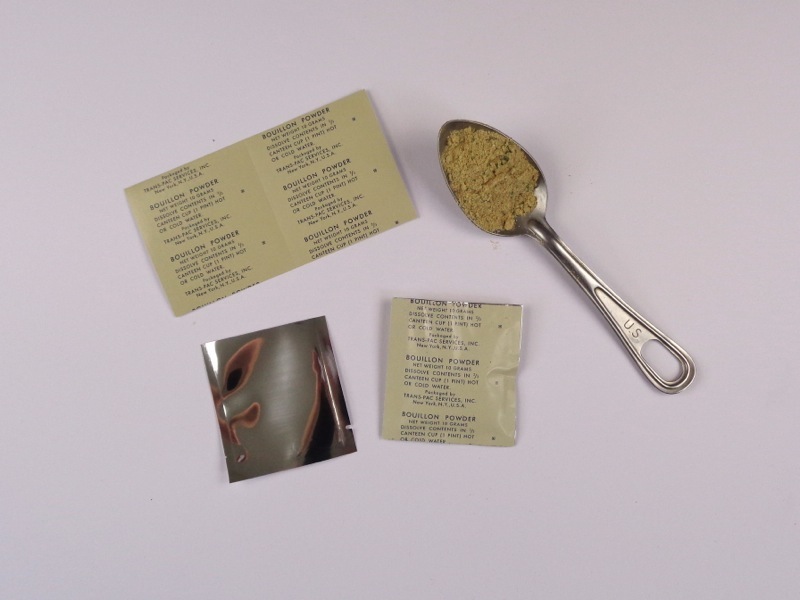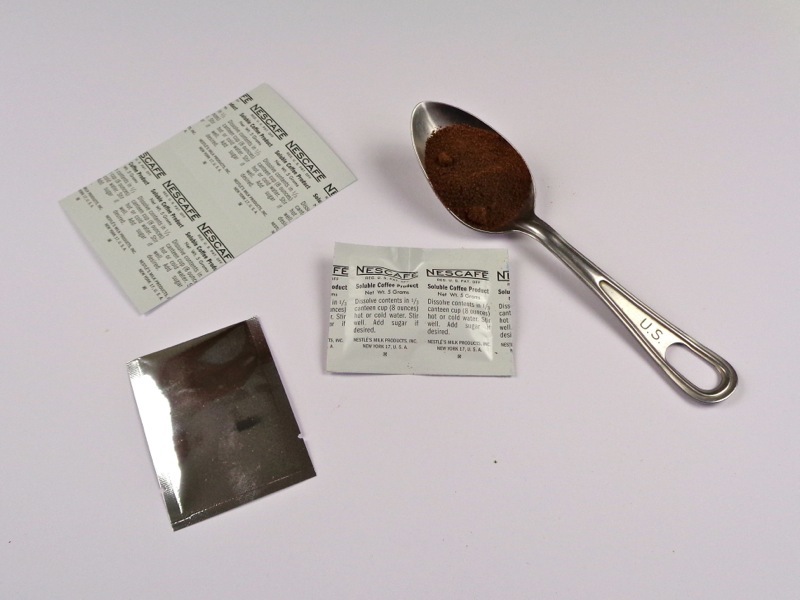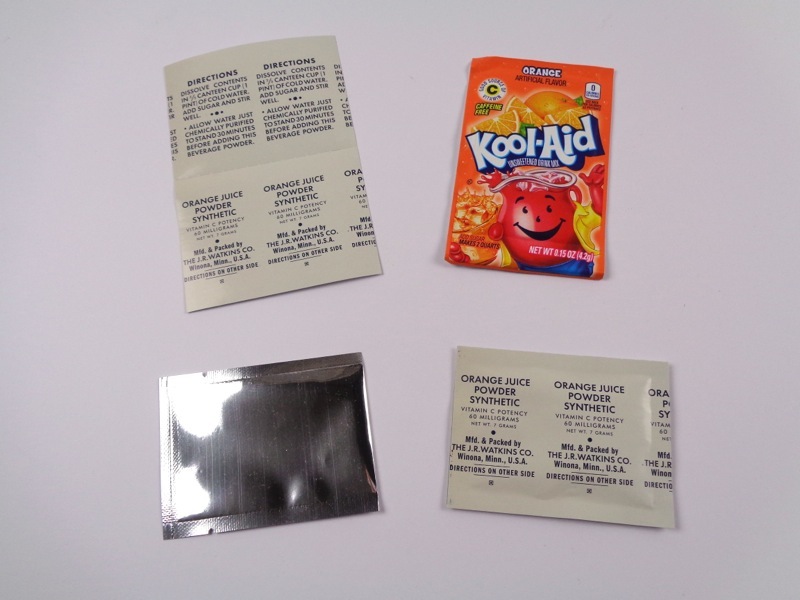 Three large cellophane bags will be included to seal the components in before placing them in the inner carton.
Here's a quick guide what and how to pack in to the large cellophane bag. (I used original biscuits so that you get an idea what they should look like.)
Click photos for larger images. The black object is the Hair Straightner I used to seal the bag.
Breakfast: 4 tablets of Sugar, Fruit Bar, envelope of Soluble Coffee Product and two packages of Biscuits.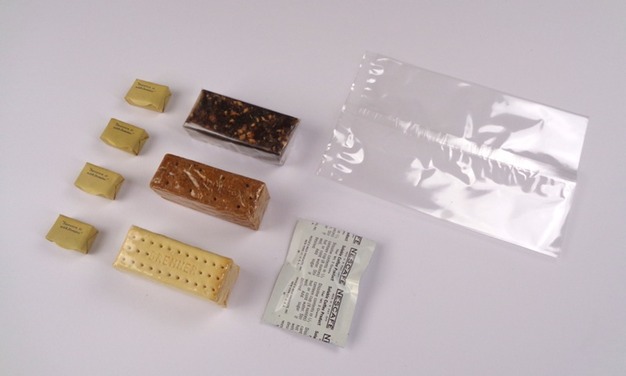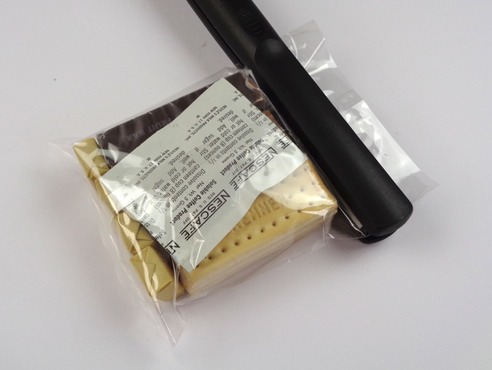 Dinner: 1 package of 23 grams of Sugar (or 4 Sugar tablets), Confection, envelope of Lemon or Orange Juice Powder and 2 packages of Biscuits or 1 package of square Biscuits.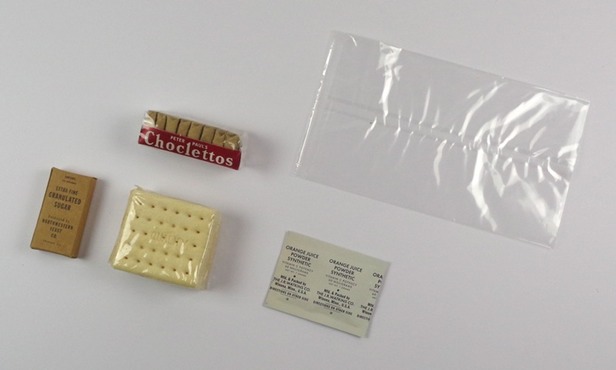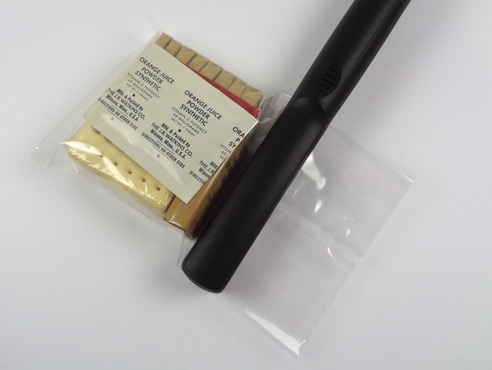 Supper: Sweet Chocolate Bar (or D-bar), envelope of Bouillon Powder and 2 packages of Biscuits. (Early Supper units contained 3 sugar tablets, these were later replaced with a package of toilet paper. The toilet paper was not sealed in the cellophane bag with the food components.)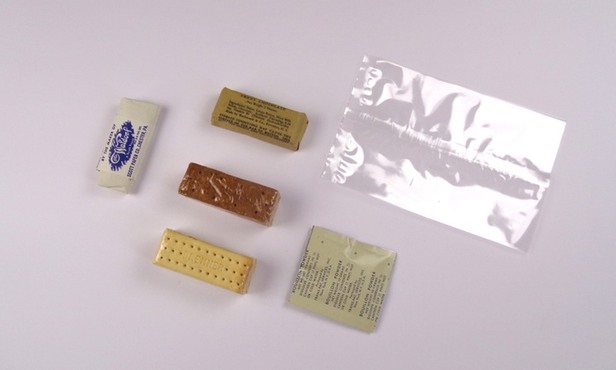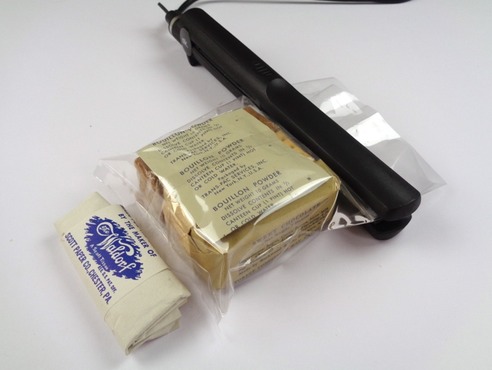 Enjoy,
Harry.
P.S. I have no idea where to find cans that will fit the K Rations. So, please check your local supermarket. Finding correct sized biscuits that will fit the K Ration will be a challenge too.